Colne Radio broadcasts to a potential audience of 120,000 customers across North East Essex on 106.6 FM and worldwide on the web and our forthcoming Android and IOS apps.
From popular music shows during the day, through to specialist shows in the evening and weekends, Colne Radio has a reach far beyond our community.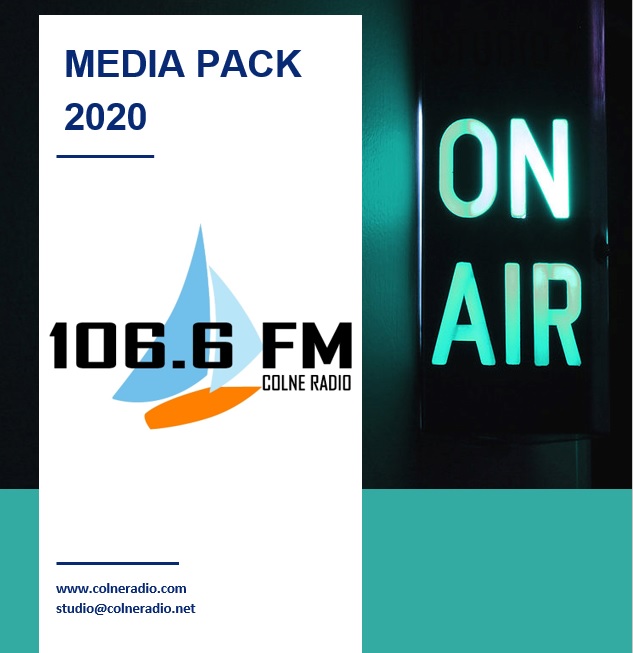 Media Pack
Download our free Media Pack
Published:
September 30, 2020
Why Advertise on Radio?
Radio is the perfect advertising medium. It's free to listeners, available in the car, in shops, on your mobile, tablet or PC. It provides entertainment, information, interaction and engagement. Many local business's already benefit from our service and competitive rates so why not see what we can do for you today.
Colne Radio offers Advertising and Sponsorship opportunities.
Advertising is a flexible way of promoting your business to the local community, whereas sponsorship associates your business with the station.
Advertising
• Get your tailored message to a community audience
• Have a captive audience, with low avoidance of adverts
• From enquiry to hearing your advert online could take as little as two days
• We can time your airplay to target your specific audience
Listen to Our Advertising Examples:
Sponsorship
• Linking your business with the heart of the community
• Sponsor specific shows in order to gain interest of your target market
• Positive image for your business, with ties to certain shows and events
Get in touch today
Colne Radio Unit 40 Wivenhoe Business Centre Brook Street Wivenhoe Essex, CO7 9DP
web: www.colneradio.org
email: studio@colneradio.net
facebook: https://www.facebook.com/colneradio/
twitter: http://twitter.com/colneradio
[/vc_row]
---